Waking the Windmill Weekend at Avoncroft Museum
Posted on

February 18, 2014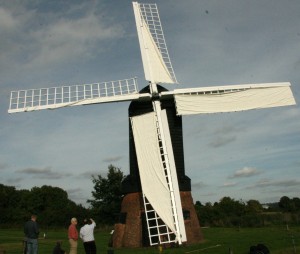 Join Avoncroft's team of specially trained volunteers on Saturday 22nd and Sunday 23rd February when they "sail" the Museum's iconic 19th century windmill for the first time in 2014.
Visitors are encouraged to come and watch as volunteers check the weather conditions, prime the windmill and set its sails to allow the postmill, which dates from the early 19th century, to turn. This will be subject to weather conditions, but volunteers will be available to give tours of the mill whatever the weather.
The windmill, originally from Danzey Green in Warwickshire, hit the headlines in January 2012 when it was seriously damaged in high winds. Since then it has been repaired and is now in full working order.
Visitors will also be able to see film footage of the rescue of the windmill from its original in 1969. There will also be a demonstration of traditional bread making in the historic Toll house, which is furnished as it would have appeared in the 19th century.
Avoncroft Museum is home to 30 historic buildings and structures which have been rescued and re-built in rural Worcestershire. The museum is set in over 19 acres of grounds and includes a wildflower meadow, a traditional cider and perry orchard and period gardens.
Admission prices are £7.70 for adults, £6.60 for seniors and £4 for children.
Avoncroft Museum members are admitted free of charge.
Please follow and like us:
Tags: windmill, Worcestershire