Eckford Sweet Pea Society of Wem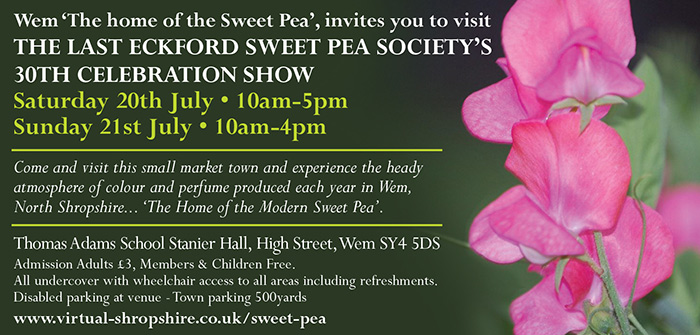 The Eckford Sweet Pea Society of Wem will be holding its last  30th Celebration Annual Sweet Pea Show in Wem, North Shropshire SY4 5DS
Saturday 20th July 2019 10am-5pm, Sunday 21st July 2019 10am-4pm
Over 70 classes for sweet peas from the Formal Vases to Bowls, Baskets, Plants, Floral Art & Children's section.
The Eckford Sweet Pea Society of Wem has decided with regret, that this show will be the last show organised by this Society. It has been a sad and difficult decision to make but the volunteers are all ageing and despite requests, no new younger volunteers have come forward.
Thanks to the work of the Eckford Sweet Pea Society, Wem is now well known as the birthplace of the modern sweet pea and our shows have attracted over 45,000 visitors to the town over the last 30 years.
The Society will continue to promote sweet peas by inviting membership, selling seeds and holding social events. Membership of the Society will continue at the reduced cost of £2 for the year, while the decision is taken on how the Society will be run in the future.
Come and visit one of the largest Sweet Pea Shows in Britain. Short drive from the M54
Strictly "Disabled only" parking at the Venue, Wheelchair access to all areas. All amenities on site including refreshments.
PARKING AVAILABLE IN THE TOWN CENTRE CAR PARK.
A ten minute walk from the Rail Station and Caravan facilities within a mile.
Email:  johnandvalgood@tiscali.co.uk
Call: 01948 840779