Clonter Opera Theatre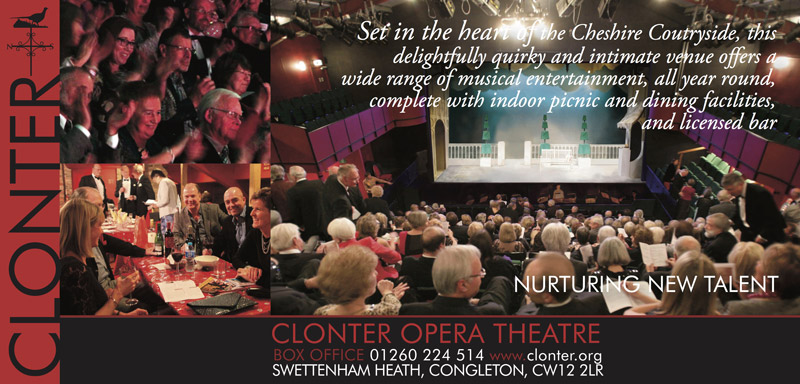 Clonter Opera Theatre
Clonter provides professional development opportunities for emerging artists, orchestral players, designers, technicians and costume makers.
Each year Up to 2000 children take part in Musical Theatre workshops, variety shows and performance projects as part of our Educational Outreach Programme. Another expanding area of Clonter's activities are Musical Teas and day time events.
Clonter runs 32 public events a year in addition to sharing its facilities with other performing arts organisations and charities throughout the year.
Clonter Opera Theatre
Swettenham Heath
Congleton
Cheshire CW12 2LR
Box Office – 01260 224 514. Please note the Box Office is currently being manned Mondays, Wednesdays and Fridays, 10am – 4pm.
Facebook: https://www.facebook.com/clonteropera
Twitter: https://twitter.com/clonteropera
Instagram: https://www.instagram.com/clonteropera/
You Tube: https://www.youtube.com/channel/UCPVEzi4Ovr8i6d1u_2eP9vQ
Pinterest: https://www.pinterest.co.uk/clonter/