Smithills Open Farm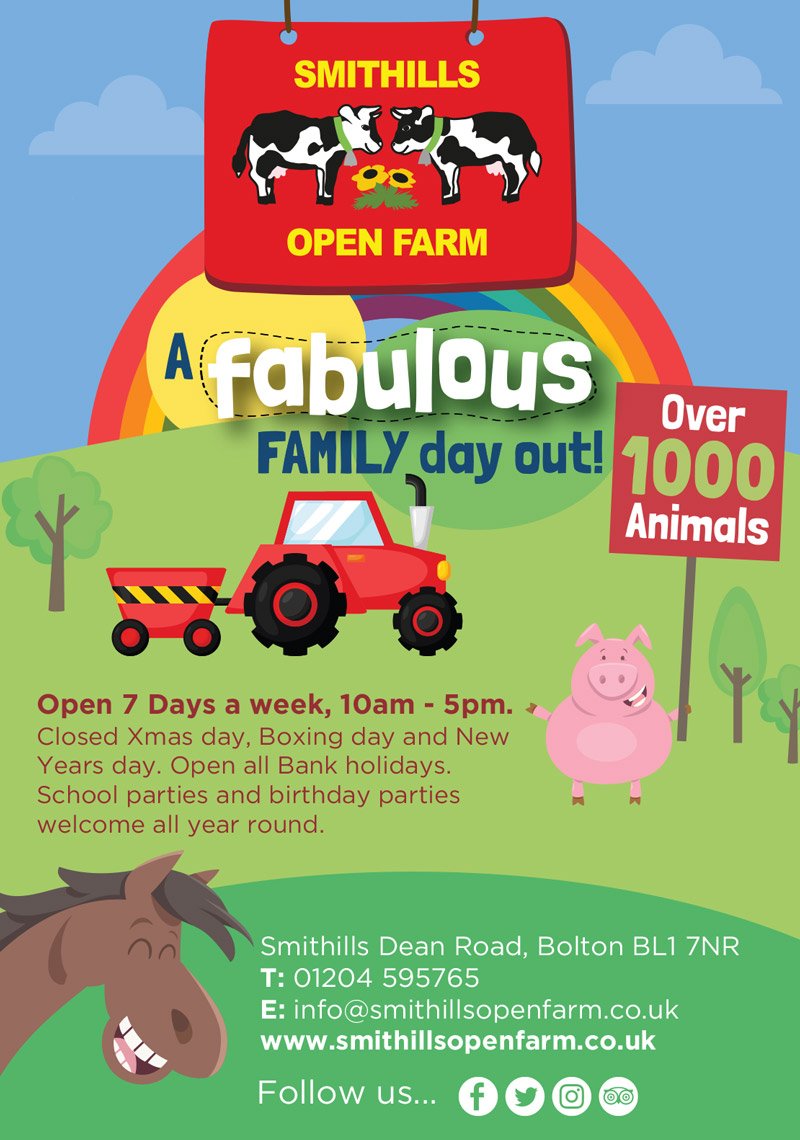 Smithills Open Farm
Where Children have the time of their lives
Set within 70 acres of rolling countryside a few miles north of Bolton, Smithills Open Farm is a family run business where nothing sits still. Not even our stick insects.
The farm itself is constantly evolving, with new animals coming to stay every week. We provide homes for everything from cows, pigs, goats, sheep, rabbits, llamas, owls, eagles, donkeys, ducks and deer. In fact, we have over 25 different types of residents. Some are more fury than others. But all are lovely. Even our Burmese pythons.
Smithills Open Farm has been in our family since the turn of the millennium. That's the year 2000 to you an me. Before that we had another farm. A dairy farm that had lots of cows and produced lots of lovely milk. That one was not open to the public, though.
Farming is in our blood. We love it. And we love animals. Our animals are a very happy bunch. They are all well loved (and fed!). And you can get up close to them because they are all nice and well behaved. You can even feed them, and hold them, if you wish.
Aside from the animals, there are a lot of other things to do at Smithills Open Farm too. We have bouncy castles, an adventure playground, an inflatable assault course, a sandpit, donkey rides, a tractor tour, a souvenir shop, and a café that sells everything from ice cream to sausage, chips and beans. Yummy.
We also cater for birthday parties and school trips. And we do lots of both, so we consider ourselves experts. To find out more, visit the dedicated birthday party and educational pages of this here super-cool website.
There is so much to do at Smithills Open Farm. We promise to keep you entertained during your day out. So much so that, like our animals, you won't ever want to leave!
Open 7 days a week 10am until 5pm (Closed Christmas day, Boxing day and New Years day)
Smithills Open Farm
Smithills Dean Road
Bolton, Greater Manchester
BL1 7NS
SAT NAV POSTCODE BL1 7NR
Tel: 01204 595 765
Email: info@smithillsopenfarm.co.uk
Facebook: https://www.facebook.com/Smithills-Open-Farm-136960726334778
Instagram: https://www.instagram.com/smithills_open_farm